Top 10 Reasons to Call Griswold Plumbing Services "Near Me" in Wallingford, CT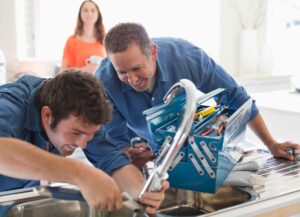 When it comes to plumbing problems, it's always best to call in the professionals. In Wallingford, CT, and the surrounding areas, Griswold Plumbing Services is the trusted name for all your plumbing needs. With their expertise, reliability, and commitment to exceptional service, they are your go-to plumbing service provider. With the information below, we'll explore the top 10 reasons why residents in Wallingford CT  should reach out to Griswold Plumbing Services. So, let's dive in and discover why they are the perfect choice when searching for Wallingford CT plumbing services near me.
Leaky Faucets? Bid Farewell to Drips! A dripping faucet not only wastes water but can also be incredibly annoying. Griswold Plumbing Services understands the importance of a properly functioning faucet. With their expertise, they can quickly diagnose the cause of the leak and fix it promptly, ensuring you save water and maintain a peaceful environment in your home.
Clogged Drains? Restore the Flow! Dealing with a clogged drain can be frustrating. Instead of relying on DIY solutions that may not provide long-term results, call Griswold Plumbing Services. Their skilled plumbers have the tools and knowledge to unclog drains effectively. Whether it's a kitchen sink, bathroom shower, or toilet, they will clear the blockage and restore the flow of water.
Burst Pipes? Swift Action to Prevent Further Damage! A burst pipe is an emergency that requires immediate attention. It can lead to extensive water damage, affecting your property and belongings. Griswold Plumbing Services understands the urgency of such situations. Their team of experts offers 24 hour emergency plumbing service in Wallingford CT and will respond quickly to your call and work efficiently to repair or replace the damaged pipes, preventing further costly damage.
Water Heater Troubles? Bring Back the Warmth! A malfunctioning water heater can disrupt your daily routine and leave you with cold showers. Griswold Plumbing Services specializes in diagnosing and resolving water heater problems. Whether it's a faulty thermostat, heating element, or a leak, their professionals will get to the root of the issue and provide the necessary repairs, ensuring you have a reliable supply of hot water once again.
Low Water Pressure? Restore the Force! If you're experiencing weak water pressure throughout your home, it can be frustrating and hinder various tasks. Griswold Plumbing Services has the expertise to identify and address the underlying causes of low water pressure. Whether it's a clog in the pipes, a faulty pressure regulator, or a municipal water supply issue, they will find a solution to restore strong water pressure, allowing you to enjoy optimal water flow.
Sewer Line Woes? Eliminate the Stench! Sewer line problems can quickly turn into a nightmare, causing foul odors and sewage backups. Griswold Plumbing Services specializes in sewer line repairs and replacements. With their advanced equipment and extensive knowledge, they can identify any issues and provide effective solutions, ensuring your sewer line functions properly, without any unpleasant surprises.
Need New Fixtures? Leave it to the Experts! When upgrading your bathroom or kitchen, proper installation of new fixtures is crucial. Griswold Plumbing Services has the expertise to handle fixture installations with precision. Whether it's a new toilet, sink, bathtub, or showerhead, their professionals will ensure proper installation, guaranteeing optimal performance and longevity.
Water Leak Detection? Unveiling the Hidden Culprits! Hidden water leaks can lead to water wastage, increased bills, and even property damage. Griswold Plumbing Services utilizes advanced techniques and equipment to detect and locate hidden leaks. By identifying the source of the leak, they can provide efficient repairs, preventing further damage to your home and saving you money on your water bills. Their skilled plumbers are trained to detect leaks in both visible and hidden areas, such as behind walls or underground, ensuring a thorough inspection of your plumbing system.
Frozen Pipes? Thawing Out Your Worries! Winters in Wallingford, CT, can be harsh, and frozen pipes are a common occurrence. If you're facing frozen pipes, it's essential to address the issue promptly to prevent them from bursting and causing significant damage. Griswold Plumbing Services has the expertise to safely thaw frozen pipes and offer solutions to prevent future freezing. They can also inspect your plumbing system for vulnerable areas and provide insulation recommendations, ensuring your pipes remain protected during the colder months.
Renovating? Plumbing Professionals to the Rescue! If you're planning a home renovation or remodeling project that involves plumbing modifications, Griswold Plumbing Services is your reliable partner. From bathroom makeovers to kitchen upgrades, their team will work closely with you to understand your vision and ensure that the plumbing changes align with your design goals. They will handle the installation of new plumbing fixtures, rerouting of pipes, and any necessary adjustments, all while adhering to local building codes and regulations. With Griswold Plumbing Services, you can confidently proceed with your renovation, knowing that the plumbing aspect is in expert hands.
Griswold Plumbing Services: Your Trusted Plumbing Service Near You in Wallingford, CT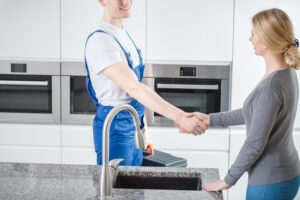 When it comes to plumbing services in Wallingford, CT, and the surrounding areas, Griswold Plumbing Services stands out as a trusted and reliable choice. With their expertise, professionalism, and commitment to customer satisfaction, they address a wide range of plumbing issues, from leaky faucets to sewer line repairs. By entrusting your plumbing needs to Griswold Plumbing Services, you can rest assured that you'll receive top-notch service from experienced professionals.
Remember, attempting to tackle plumbing problems on your own can often lead to further complications and costly repairs down the line. So, the next time you encounter a plumbing issue, whether it's a burst pipe, a water heater malfunction, or a clogged drain, don't hesitate to call Griswold Plumbing Services. Their friendly team of experts is just a phone call away, ready to provide the prompt and effective plumbing solutions you need. Enjoy peace of mind knowing that your plumbing is in the hands of professionals who are dedicated to keeping your home safe, comfortable, and functioning smoothly.