We're CT's Expert Plumbing & Well Water Specialists
Griswold Plumbing Services of Chester and Middletown, CT is your expert and award-winning well pump and water treatment specialist. We proudly offer plumbing services to residential homes throughout Middlesex County and portions of New Haven County, New London County, Hartford County and Tolland County in Connecticut (CT). With our well-trained, reliable staff of water specialists and plumbers, we pride ourselves in providing quality workmanship and bringing you the best value.
This is a testament to the hundreds of positive reviews and testimonials from our customers and being awarded the Angie's List Super Service Award over the last 7 years.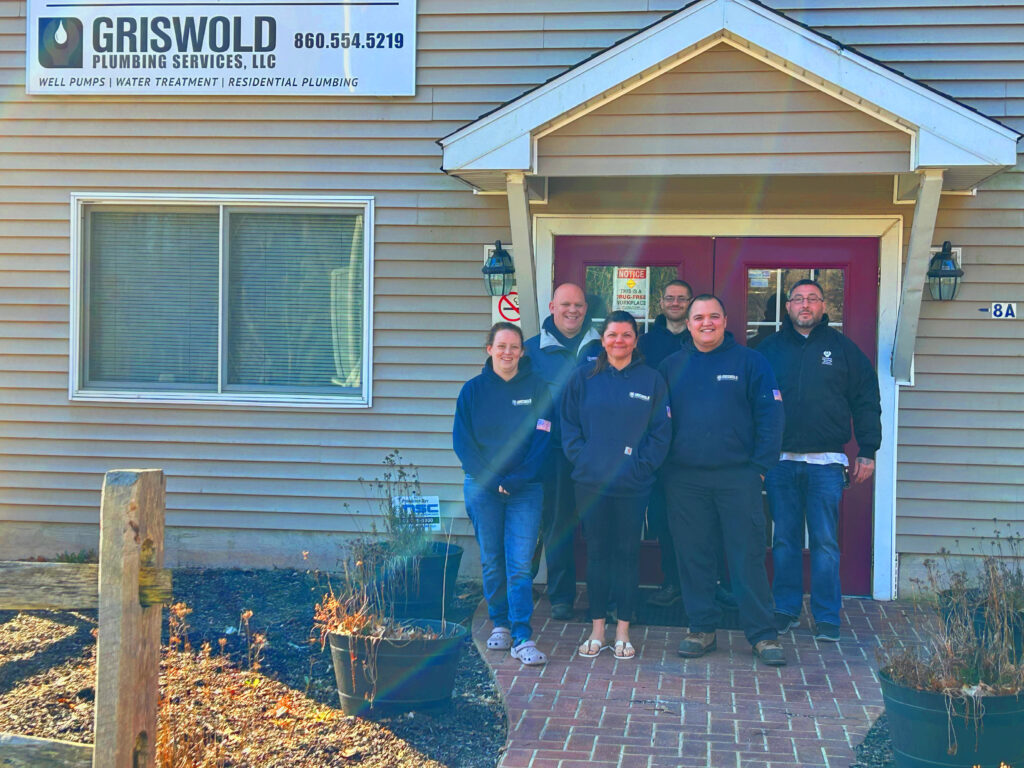 Most Plumbers Are Symptom Fixers; We Fix The Root Of The Problem.
Besides helping with your well & water, we can also help with your general plumbing service needs. In addition to providing excellent customer service, all of our work is backed by our full one-year parts and labor warranty. This means if you have a problem with something we repaired, we will come back and fix it for you at no additional cost on all labor and parts.
We Take A Holistic Approach To Your Water & Plumbing Needs.
At Griswold Plumbing Services, we take a holistic approach to your water treatment and plumbing services. We even use water lab testing, which gives us scientific data to help troubleshoot well water problems that you may not even know exists.
Tim Griswold, the owner and operator of Griswold Plumbing Services of Chester, Connecticut (CT) acquired a J-2 license. This license is a specialty license for domestic water pumps and water conditioning. Typically, most plumbers hold a P-1 Unlimited Plumbing Contractor license, and do not get their J-2 license first. Why is this important? Because Tim received specialized training in well pumps and water treatment in addition to general plumbing training, he is able to take a more holistic approach and fix your water problems at the source. Also, this allows Tim to provide you more specialized water pump and water conditioning education.
Available Backhoe Services In CT
At Griswold Plumbing Services, some jobs require a backhoe. Most plumbers do not have a backhoe, which would delay your job in bringing in another sub contractor for digging services. Because we pride ourselves on providing the highest quality work and being efficient, we knew having a backhoe within our plumbing company in CT would help provide a better service.
Owner Accessible
Dealing with an owner-operated business is great, but when you have a problem, you want to speak directly with the owner. Tim helps his staff with service calls, and he is only a phone call away for you. He has instilled the same quality and pride of his work into his team.
Griswold Plumbing Services is big enough to handle your plumbing and well water needs quickly and efficiently with a team of experts. At the same time, Griswold Plumbing Services is small enough to provide you friendly and personal plumbing services.
One Job At A Time
Before we move onto the next job, we ensure your job is complete. Obviously, there may be situations where a part needs to be ordered, but we don't start a job and then come back two weeks later to finish it. We start your job and fix your problem before going onto the next job. This also allows us to be more efficient.
Expert Plumbing & Well Service 24/7
Our well-trained, reliable staff of water pump and water treatment specialists and plumbers serve the following towns in Connecticut (CT): Chester, Middletown, Killingworth, Deep River, Essex, Old Saybrook, Westbrook, Clinton, Haddam, East Haddam, Durham, Middlefield, Cromwell, Portland, East Hampton, Old Lyme, Lyme, East Lyme, Montville, Bozrah, Lebanon, Salem, Colchester, Marlborough, Hebron, Columbia, Andover, Bolton, Glastonbury, Wethersfield, Rocky Hill, Newington, Berlin, Southington, Meriden, Wallingford, North Branford, Guilford and Madison, Connecticut (CT).
Award Winning Business
Finding a skilled and professional plumber in Connecticut can be challenging, but it doesn't have to be! With years of experience in our field, our team has a 5-star rating on Google, an A+ rating with the Better Business Bureau, Angie's List Super Service Award 2011, 2012, 2013, 2014, 2015, 2016 and 2017 and the Pulse of the City Excellence in Customer Satisfaction Award 2014, 2015, 2016 and 2017. We have earned these awards by going the extra mile for all of our clients. Our priority is providing outstanding customer service, let our awards speak for themselves!