The Ultimate Guide to Plumbing Repair in East Hampton CT: A Case for Professional Plumbing Services
Whether you've just moved into a new home or have been living in East Hampton CT for years, one thing is for certain – sooner or later, you will encounter plumbing issues. These can range from minor problems like a leaking faucet to significant concerns like a burst pipe. While it's tempting to tackle some of these repairs yourself, professional plumbing services like Griswold Plumbing Services, LLC, can provide the expertise and experience needed for efficient, long-term solutions.
This ultimate guide to plumbing repair will provide insights into common plumbing issues, the importance of hiring a professional plumber, and the benefits of choosing Griswold Plumbing Services, LLC, for all your plumbing needs in East Hampton CT.
Common Plumbing Issues
Understanding the common issues that homeowners face can help you recognize when it's time to call a professional plumber. Here are a few examples:
Leaking Faucets and Pipes: Not only can these issues lead to water waste and higher bills, but they can also cause water damage if not promptly addressed.
Running Toilets: A running toilet can waste up to 200 gallons of water per day, making it an urgent issue for both your wallet and the environment.
Water Heater Issues: Whether it's a lack of hot water, inconsistent temperatures, or unusual noises from your water heater, these are clear signs you need professional help.
Clogged Drains: While minor clogs can sometimes be cleared with a plunger or a hand auger, persistent or recurring clogs often require a plumber's attention.
Sump Pump Failures: Sump pumps are vital for preventing basement flooding, particularly during heavy rains. If your sump pump isn't functioning correctly, it's time to call in the experts.
Burst Pipes: Often caused by freezing conditions, a burst pipe can cause substantial damage to your home and requires immediate professional intervention.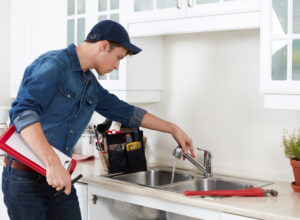 Benefits of Hiring a Professional Plumber
While DIY might be suitable for small jobs around the house, plumbing repairs require a professional touch. Here's why:
Expertise and Experience: Professional plumbers have the training and experience to handle a wide range of plumbing issues. They can diagnose problems accurately and provide effective solutions.
Proper Tools and Equipment: Plumbing repairs often require specialized tools and equipment that most homeowners don't have at their disposal. Professionals come equipped with everything needed for the job.
Safety: Working with plumbing can be risky, especially when it involves water heaters or sewage lines. Professionals know how to handle these jobs safely.
Long-Term Solutions: A professional plumber will not just fix the issue but will also inspect your system for potential problems, providing a long-term solution rather than a quick fix.
Time and Cost Efficiency: Trying to fix a plumbing issue yourself can be time-consuming and may cost more if mistakes are made. Hiring a professional can save both time and money in the long run.
Griswold Plumbing Services, LLC: Your Go-To Professional Plumbing Service in East Hampton CT
For residents of East Hampton CT, Griswold Plumbing Services, LLC, is the trusted name for all your plumbing repair needs. Our team of experienced and dedicated professionals is committed to providing top-notch services, from routine maintenance to emergency repairs.
We offer a wide range of services, including water heater repair and replacement, sump pump maintenance, faucet and pipe leak repairs, and 24-hour emergency plumbing services. We also specialize in whole-house re-piping, which can be an effective solution for older homes with outdated or damaged plumbing systems.
At Griswold Plumbing Services, LLC, we believe in the importance of providing not just immediate fixes, but long-term solutions. Our team will thoroughly inspect your plumbing system, identify any potential issues, and provide comprehensive repairs that help prevent future problems. With our professional services, you can have peace of mind knowing your plumbing system is in good hands.
But why choose Griswold Plumbing Services, LLC, for your plumbing repairs? Here's what sets us apart:
Experience: We bring years of professional experience to every job, ensuring efficient and effective service.
Quality Service: Our team is dedicated to providing high-quality service, from the initial inspection to the completion of the repair.
24/7 Availability: Plumbing emergencies can happen at any time. That's why we offer 24/7 emergency services to help you when you need it most.
Customer Satisfaction: Your satisfaction is our top priority. We strive to exceed your expectations and won't leave until you're completely satisfied with our work.
Local Experts: As local plumbing experts, we understand the unique plumbing challenges that East Hampton CT residents face and know how to address them effectively.
While it might be tempting to tackle plumbing issues on your own, it's crucial to understand the importance of hiring a professional plumber. By doing so, you can ensure that your plumbing system is well-maintained, efficient, and long-lasting.
Whether you're facing a minor issue or a significant plumbing emergency, Griswold Plumbing Services, LLC, is here to help. We're committed to providing the residents of East Hampton CT with reliable, professional, and prompt plumbing services. Don't wait for a small problem to turn into a big one – contact us today for all your plumbing repair needs.