Water heaters are an important part of any residential water system and ensure that you and your family have hot water available to you. If your water heater stops working, it can cause a number of issues for the entire household. Griswold Plumbing Services is here to serve you in CT for all of your plumbing and water heater needs. Whether your water heater needs to be repaired or replaced, we can help your water system to function properly again.
If your water heater is more than 10 years old you can expect it to fail at anytime. Best situation is that it will just stop heating. Worst case you come home from work only to discover that the tank leaked all over the floors causing hundreds of dollars in damage and a lot of time spent on clean up and restoration.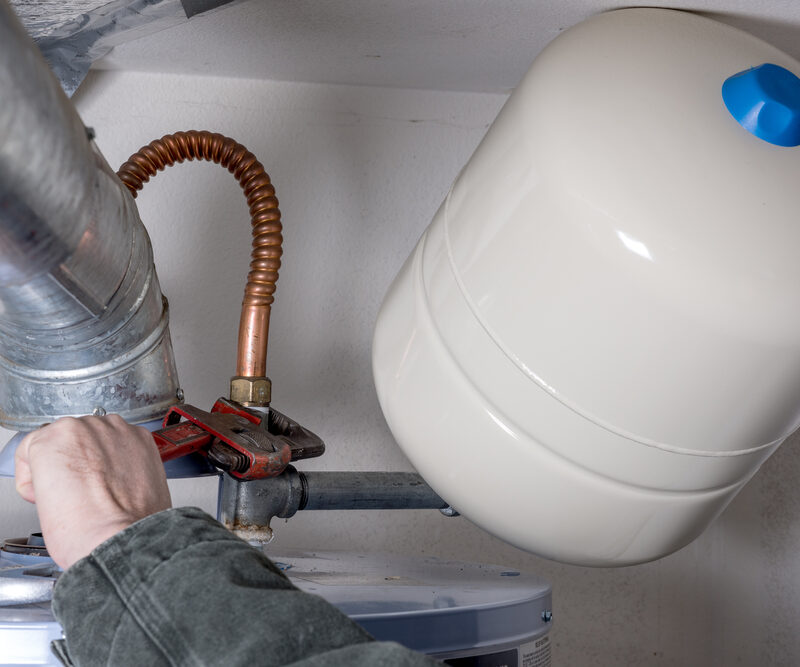 Time To Install A New Water Heater?
A family of four can use as much as 2,500 gallons of hot water each month. Griswold Plumbing can help you select the right water heater to meet your lifestyle and your budget. With today's advanced technology, water heaters are more energy efficient than ever before, using less energy and saving you money on your monthly water bill.
At Griswold Plumbing you can select from a conventional water heater or a tankless water heater. Tankless water heaters guarantee you'll never run out of hot water again. Plus, the newest models of water heaters last longer and are more efficient. They'll actually save you even more money!
Frequently Asked Questions
Most likely you are referring to the overflow pipe attached to the temperature relief valve on the water heater. This is a safety valve and helps relieve excess temperature and pressure inside the water heater in case of high pressure or an overheated water heater. Occasionally this pipe will "blow off a little steam" and there will be no problem with your water heater, but if it leaks frequently or continuously there may be a problem. Call and speak with one of our water heater experts here at Griswold Plumbing, and let us help determine if you have a problem.
The most common reason a pilot won't light, is a bad thermocouple or a faulty part inside the water heater. When this occurs most of the time a simple repair will fix the problem.
Water heaters tend to leak for a few reasons. Most often the internal tank has a crack and is broken or there is a leak at a fitting or part connected to the water heater. First check to see if you can tell where the water is coming from. Look at the top of the water heater and see if it is wet or if one of the water connectors is dripping, a leak like this can usually be repaired. If you do not see any visible leaks, but water is pooling around the bottom of the heater this is a sign the water heater has gone bad.
If you have an older water heater, you might have a sediment buildup problem inside your tank. As a water heater ages, it tends to accumulate sediment and deposits at the bottom. If the water heater is not cleaned periodically, the sediment may rise to a level that will act as a barrier between the burner and the water, making it harder to heat, thus giving you less hot water. There could also be a problem with a faulty part or a bad dip tube in the water heater, so it might be time to contact Griswold Plumbing for a professional on-site assessment at your home or business.
Generally, about 45 minutes. If your water heater has been turned off or if you have just had a new unit installed it will take approximately 45 minutes to heat the water up. Each water heater varies in recovery depending on the gallon capacity and BTU input, but if after about 1 hour there is still no hot water then the unit is not working properly. Gas water heaters recover quicker than electric water heaters, but either way you should not have to wait more than about 1 hour for a water heater to fully heat and produce hot water.
The noise described as "rumbling" usually is the sound of expanding heated water escaping from sediment at the bottom of a tank. This situation is not dangerous but it is a sign that the water heater has lost much of it's efficiency. As sediment builds up, more and more heat is lost up the chimney and less gets into your water. The overheating of the bottom of the tank also shortens the life of the tank and can lead to the failure of the water heater.
It depends on you and your situation. Tankless water heaters cost a considerable amount more than conventional heaters in general, but they may save you in energy costs. Tankless water heaters will save you space and can free up space in your home for other uses. Some units only adequately supply one or two fixtures operating simultaneously so a home might require a large unit or more than one tankless water heater. If you are considering the installation of a large sitting bath or similar fixture it might be a good choice or if you are interested in creating more free space it might be a good alternative. Often they require a larger gas line and the flue piping must be changed. Do your research and make sure a tankless is right for your household before you make your purchase, or have Griswold Plumbing come out to your home or to assess the situation and help you determine the best option.
Usually when a water heater produces smelly water, it relates to the mineral compound in the water supply reacting with the inside of the water heater. Depending on the chemical content of your water sometimes a water heater can produce "smelly water" the combined presence of hydrogen, sulfur, and bacteria cause foul smelling water, sometimes even that "rotten egg smell". The magnesium anode rod installed in the tank protects the tank surface but generates enough hydrogen to create an odor when it interacts with sulfur in the water or bacteria in the tank. Replacing the magnesium anode rod with another type of anode may alleviate the problem. The most efficient method of eliminating the hydrogen sulfide odor is to control the bacteria. As a rule, chlorination of public water supplies kills the bacteria, but some private well systems may need to be purified to destroy the bacteria. Most often it is not a dangerous situation, but as a precaution we recommend you contact you water supplier or a water heater professional like Griswold Plumbing regarding smelly or discolored water.
Several factors we suggest looking at are: Is your need for hot water growing, staying about the same, or diminishing? Is it possible that your heater seemed undersized due to a build-up of sediment in the bottom? Are you planning on moving in the near future and if so what size might a prospective buyer expect in your size home? Does it ruin your day when you run out of hot water or is it just a minor inconvenience? Are you willing to space your shower and laundry usage to avoid running out of hot water? How important is energy conservation to you?
Our service region includes the following towns in Connecticut (CT): Middletown, Chester, Killingworth, Deep River, Essex, Old Saybrook, Westbrook, Clinton, Haddam, East Haddam, Durham, Middlefield, Cromwell, Portland, East Hampton, Old Lyme, Lyme, East Lyme, Salem, Colchester, Marlborough, Hebron, Glastonbury, Wethersfield, Rocky Hill, North Branford, Guilford and Madison, Connecticut (CT).
Call Griswold Plumbing Services today at 860.554.5219 for all your Water Heater needs in Connecticut (CT)!