Living in Newington, CT, with its variable weather conditions and potential for heavy rainfall, homeowners understand the value of a well-functioning sump pump. This crucial piece of equipment helps prevent basement flooding and water damage, protecting both your home's structure and your belongings. Despite its importance, the sump pump is often overlooked – until it stops working. This article will explain the vital role of sump pumps, why regular checks are necessary, and why hiring a professional plumbing service like Griswold Plumbing Services, LLC, is a wise decision for your sump pump needs.
Understanding the Role of Your Sump Pump
A sump pump is designed to remove water that has accumulated in a sump basin, commonly found in the basements of homes. During heavy rainfall or snowmelt, water can seep into your home, but a sump pump will swiftly move this water away from your home to a place where it's no longer problematic, such as a municipal storm drain or a dry well.
By doing so, the sump pump plays a critical role in preventing basement flooding, protecting your home's foundation, and avoiding the potential growth of mold and mildew, which can lead to unhealthy living conditions.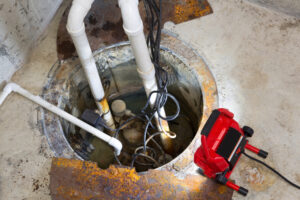 Why Regular Sump Pump Checks are Crucial
Like any mechanical device, a sump pump requires regular checks and maintenance to ensure it's working optimally. Regularly inspecting your sump pump will:
Prevent Unexpected Failures: Regular checks can detect issues before they turn into major problems, preventing unexpected sump pump failures when you need it most.
Increase the Lifespan of the Unit: Routine maintenance, including cleaning and minor repairs, can extend your sump pump's lifespan, saving you from costly premature replacements.
Protect Your Home: Most importantly, ensuring that your sump pump is working correctly is crucial to protecting your home from water damage and preserving its structural integrity.
The Importance of Hiring a Professional Plumbing Service
While some basic sump pump checks can be done by homeowners, many aspects of maintenance and repair should be handled by professional plumbers. Here's why:
Expertise and Experience: Professional plumbers have the training and experience to perform a thorough inspection of your sump pump, identify potential issues, and provide effective solutions.
Safety: Working with sump pumps, especially when they are hardwired into your home's electrical system, can pose safety risks. Professionals know how to handle these safely.
Efficiency: Professional plumbers can perform checks and repairs efficiently, saving you time and hassle.
Preventive Advice: A professional plumber can provide advice on maintaining your sump pump and preventing common problems, helping you avoid future issues.
Griswold Plumbing Services, LLC: Your Trusted Partner in Sump Pump Maintenance
For residents of Newington, CT, Griswold Plumbing Services, LLC, is a trusted provider of professional sump pump services. Our team of experienced professionals understands the vital role that a well-functioning sump pump plays in protecting your home.
Whether you need routine maintenance, a quick repair, or a complete sump pump replacement, we have the skills and expertise to get the job done. We offer thorough inspections to identify and resolve any issues before they become significant problems, helping to extend the lifespan of your sump pump and ensure it's ready to protect your home when needed.
Furthermore, we understand that sump pump issues can occur at any time. That's why we offer 24/7 emergency services, so you can have peace of mind knowing we're always here to help in a crisis.
When you choose Griswold Plumbing Services, LLC, for your sump pump needs, here's what you can expect:
Exceptional Service: We pride ourselves on delivering top-notch, reliable service to all our customers. We aim to exceed your expectations at every turn.
Expert Knowledge: Our team is well-versed in all aspects of sump pump maintenance and repair. We'll use our expertise to ensure your sump pump is in the best possible condition.
Prompt Response: We understand the urgency of sump pump issues, which is why we respond quickly to all service calls.
Customer Satisfaction: Your satisfaction is our priority. We won't consider the job done until you're entirely satisfied with our service.
Local Understanding: As local service providers, we understand the unique challenges that Newington, CT, homeowners face when it comes to plumbing and sump pump maintenance.
Regular checks of your sump pump are crucial in preventing unexpected failures and protecting your home from potential water damage. While some maintenance tasks can be performed by homeowners, many require the expertise, experience, and equipment that only professional plumbing services can provide.
Griswold Plumbing Services, LLC, is here to help the residents of Newington, CT, with all their sump pump needs. From regular checks and maintenance to emergency repairs, we've got you covered. Don't wait until it's too late – contact us today to schedule your sump pump inspection and enjoy the peace of mind that comes with knowing your home is protected.