What You Need to Know About Emergency Plumbing Services – Insights from Griswold Plumbing Services, LLC
The peace and comfort of your home can be abruptly disrupted by unexpected plumbing emergencies. It could be anything from a severe leak that causes flooding, a burst pipe, or a blocked sewer line that backs up. These are situations when you need professional assistance promptly – this is when Griswold Plumbing Services, LLC steps in. Based in Tolland County, Connecticut, we specialize in providing rapid-response, high-quality emergency plumbing services.
Understanding the scope, benefits, and need for emergency plumbing services is essential for every homeowner. Here's what you need to know:
What Constitutes a Plumbing Emergency?
A plumbing emergency refers to situations that pose immediate risks to your health, safety, and property. Here are some common examples:
Burst Pipes: Pipes can burst due to pressure build-up, freezing temperatures, or old age, causing significant water damage.
Severe Leaks: A small leak might be manageable temporarily, but a significant leak could lead to water damage and potential structural problems.
Blocked Drains or Toilets: Blocked drains or toilets can overflow, causing unsanitary conditions and potential health hazards.
Gas Leaks: A gas leak is a serious, life-threatening situation that requires immediate attention.
Sewer Backup: Sewage backups are not only unpleasant but also pose significant health risks and property damage.
Why are Emergency Plumbing Services Important?
Emergencies don't follow business hours. They can occur late at night, over the weekend, or on holidays when most regular plumbers are off-duty. This is when emergency plumbing services like ours come to the rescue. Our 24/7 availability ensures you are never left to deal with a critical plumbing issue alone.
Prompt intervention in emergencies helps mitigate damage, minimize health risks, and restore normalcy quickly. Leaving a significant leak or burst pipe unattended for hours can cause extensive water damage leading to expensive repair work.
Why Choose Griswold Plumbing Services, LLC for Your Emergency Needs?
In your moment of need, you require a reliable, efficient, and expert service provider. Griswold Plumbing Services, LLC fits the bill perfectly. Here's why:
24/7 Availability
We understand the urgent nature of plumbing emergencies. Our services are available around the clock, ensuring that help is just a phone call away, no matter when an issue arises.
Quick Response
We pride ourselves on our fast response times. As a local company in Tolland County, we can dispatch our team to your location quickly, minimizing the damage and resolving your emergency swiftly.
Experienced and Skilled Team
Our team consists of licensed and skilled professionals with extensive experience in handling a wide range of plumbing emergencies. Our expertise enables us to diagnose problems quickly and execute effective solutions.
Comprehensive Solutions
We don't believe in temporary fixes. Even in emergencies, we strive to provide long-lasting solutions that prevent the recurrence of the problem.
Excellent Customer Service
At Griswold Plumbing Services, LLC, we prioritize customer satisfaction. Our team is professional, friendly, and respectful, providing top-tier service while causing minimal disruption to your routine.
Preparing for Plumbing Emergencies
While our team is always ready to assist you, there are steps you can take to minimize damage before help arrives:
Shut Off the Water: Knowing where your main water valve is located allows you to cut off the water supply in case of a severe leak or burst pipe.
Keep Our Number Handy: In an emergency, time is of the essence. Having our number readily available can save valuable minutes.
Don't Panic: Stay calm and wait for professional help. Avoid trying complex DIY fixes that might cause more harm than good.
Griswold Plumbing Services, LLC, is your trusted partner in navigating plumbing emergencies. Our commitment to excellent service, coupled with our round-the-clock availability, makes us the go-to choice for Tolland County residents.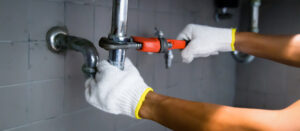 Peace of Mind with Griswold Plumbing Services, LLC
Understanding the nuances of emergency plumbing services is crucial for every homeowner. Plumbing emergencies can strike at any time, causing significant distress and damage. In such times, you need a reliable, efficient, and expert service provider to resolve your problems swiftly and effectively.
At Griswold Plumbing Services, LLC, we are committed to offering top-tier emergency plumbing services that ensure peace of mind and security for your home. Our extensive experience, skilled team, and relentless dedication to customer satisfaction make us the best choice for emergency plumbing services in Tolland County, Connecticut.
Remember, it's not just about fixing an immediate problem – it's about ensuring your home's plumbing system is robust and resilient. Regular maintenance, timely repairs, and swift emergency response are our hallmarks.
Trust us to be there when you need us the most. We don't just fix problems; we build relationships based on trust and reliability. With Griswold Plumbing Services, LLC, you are not just another customer; you're part of a community that values and respects your need for a safe, comfortable, and functional home. Choose us for your plumbing needs, and experience the Griswold difference.