A Fresh Start: Why Whole House Re-piping is a Smart Choice for Your Home in Madison, CT
As a homeowner in Madison, CT, you understand the importance of maintaining your property. One aspect that often gets overlooked until a problem arises is your home's plumbing system. With time, pipes degrade, leading to a multitude of issues that can become a homeowner's nightmare. This article delves into why whole house re-piping might be the best decision for your home's health and value, and why Griswold Plumbing Services, LLC, is your go-to partner for this undertaking.
Evaluating Your Home's Plumbing System
Your home's plumbing system is like the veins of your house, silently working in the background. However, like anything else, pipes have a lifespan. The type of piping material, the quality of water, and environmental conditions can all influence a pipe's longevity. Problems with your pipes can lead to decreased water pressure, discolored water, leaks, and even serious structural damage. If you're facing these issues frequently, it might be time to consider a whole house re-piping.
Benefits of Whole House Re-piping
Increased Home Value: A home with new plumbing is an attractive prospect to potential buyers. Whole house re-piping can increase your property's value and make it easier to sell when the time comes.
Improved Water Quality: Old pipes can rust or corrode, leading to discolored water and an unpleasant taste. With new pipes, you'll enjoy clear, clean water.
Enhanced Water Pressure: If you've been dealing with low water pressure, replacing your pipes can solve this issue, providing you with better showers and faster filling times.
Peace of Mind: Perhaps the biggest benefit of whole house re-piping is the peace of mind it provides. You won't have to worry about leaks, water damage, or costly repairs for years to come.
The Griswold Plumbing Services, LLC, Advantage
Whole house re-piping is a significant undertaking. It requires a professional touch, and that's where Griswold Plumbing Services, LLC, comes in. Here's why we're the right choice for your re-piping project:
Professional Assessment: We'll conduct a thorough examination of your home's plumbing system to determine if whole house re-piping is necessary. We believe in transparency and will provide you with all the information you need to make an informed decision.
Expert Installation: Our experienced team has the skills and knowledge to ensure your new pipes are installed correctly and efficiently. We follow all local codes and best practices to guarantee the job is done right.
Quality Materials: We use high-quality, durable piping materials to ensure your new plumbing system stands the test of time.
Excellent Customer Service: We understand that re-piping your home can be a disruptive process. We work efficiently to minimize disruption and leave your home clean and tidy.
24/7 Availability: We're always available for any post-installation concerns or emergency plumbing repairs. Our goal is your complete satisfaction.
Trust Your Home's Plumbing to Griswold Plumbing Services, LLC
At Griswold Plumbing Services, LLC, we're committed to providing superior plumbing services to homeowners in Madison, CT. Whole house re-piping is an investment in your home's future, and we're here to guide you through every step of the process.
Our team of experienced professionals is dedicated to delivering quality workmanship and exceptional customer service. We'll work with you to understand your needs and concerns and ensure that the re-piping process goes smoothly and efficiently.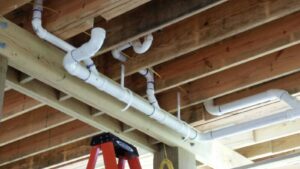 If you're dealing with persistent plumbing problems or live in an older home with outdated plumbing, whole-house re-piping could be a smart choice. Not only will it alleviate immediate issues, but it will also provide numerous long-term benefits like enhanced water quality, increased home value, and peace of mind.
We understand that this is a significant decision, and we're here to provide all the necessary information and support. Our dedication to customer satisfaction, our commitment to quality, and our local experience make us the ideal choice for your whole house re-piping project in Madison, CT.
When you choose Griswold Plumbing Services, LLC, you're not just choosing a service – you're choosing a partnership. We believe in building lasting relationships with our customers based on trust and mutual respect. We're not just here to install your new pipes – we're here to ensure you feel confident and comfortable with your decision.
It's essential to remember that maintaining your home's plumbing system is crucial for your home's overall well-being. While reactive repairs can address individual issues, a proactive approach like whole-house re-piping can often be more beneficial in the long run. And when it comes to such a significant task, you want to ensure you're working with the best.
So, if you're considering whole house re-piping for your home in Madison, CT, contact Griswold Plumbing Services, LLC, today. We'll be happy to answer any questions you have, provide a professional assessment, and offer a comprehensive quote. Let's work together to give your home the fresh start it deserves.